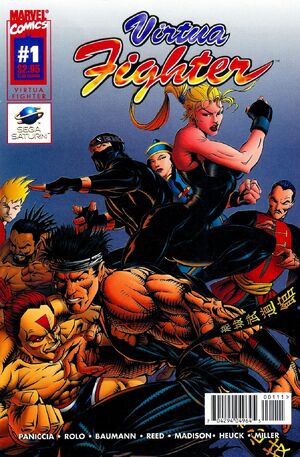 Virtua Fighter issue #1, a one-shot comic, was released by Marvel on August 1, 1995. Written by Mark Paniccia with art by Patrick Rolo, Moose Baumann, Scott Reed, Abraham Madison, Vinton Heuck and John J. Miller. Cover by Patrick Rolo and Abraham Madison. The story involves the cast from the first Virtua Fighter game.
Summary
Learn what brings eight fighters from different corners of the world to a bizarre metropolis known as Virtua City, the center of a brooding and dark secret of world domination. Are the Virtua Fighters the saviors against a secret society's evil plans, or are they mere pawns in their malicious schemes?
Trivia
Ad blocker interference detected!
Wikia is a free-to-use site that makes money from advertising. We have a modified experience for viewers using ad blockers

Wikia is not accessible if you've made further modifications. Remove the custom ad blocker rule(s) and the page will load as expected.